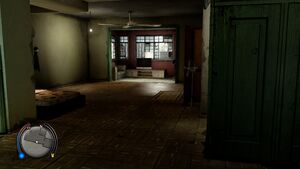 The
North Point Apartment
is an apartment accessible to
Sleeping Dogs
protagonist,
Wei Shen
.
The apartment is very basic and somewhat run down, with no fancy upholsterly or furniture. The apartment contains a bed, a bathroom with a useable toilet and sink, a kitchen with a useable refrigerator where buffs are availiable, and a TV for which Wei will use in missions, in which he can hack into local CCTV cameras and arrest certain individuals. It also has a wardrobe that Wei can use to change his clothing.
Also on the bed side table there is a family photo of Wei, Mimi and their mother when Wei was a child.
Upgrades
There are four upgrades purchaseable for the North Point Apartment. All of them can be found around the Night Market.
Pet Bird (HKD $1200)
Air Conditioner (HKD $4620)
Massive Sound System (HKD $9550)
Brand New Bed (HKD $5000)
Gallery