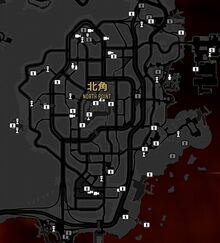 North Point (Chinese: 北角) is a neighbourhood in Hong Kong. Winston Chu's Water Street Gang control part of this neighbourhood. The architecture seems to be similar to Mong Kok in Kowloon.
Wei's first safehouse is within North Point and is unlocked by completing Night Market Chase mission.
Notable Residents
Notable Locations
Trivia
Real North Point is located in the Northeast of the Hong Kong Island, but it is changed to reside on the east side of Hong Kong, in Sleeping Dogs.
Gallery