---
---
"Ask anyone. Jackie Ma still looks good!"
―Jackie Ma
Jackie Ma is the deuteragonist of Sleeping Dogs. He is a childhood friend of Wei Shen.
During the beginning of the game, Jackie Ma was a low-level gang affiliate. He knew several Water Street Gang members from childhood, including Winston Chu, but he was not considered part of the gang, Jackie was not included in confidential planning or operations, but was sometimes used as an errand boy. He frequently attempts to claim that he is more important in the gang than he actually is.
Jackie is often seen with Winston and is an important character throughout the game. Wei and Jackie are close friends, often working side by side, with Jackie seeming to respect and look up to Wei, and Wei protecting Jackie on multiple occasions.
Biography
Background
Jackie was born in a poor project. His mother was a drug addict and his dad left the family. Jackie eventually became an associate for the Sun On Yee, but didn't become an official member until later on in the game when Wei is promoted.
Events of Sleeping Dogs
Working for the Sun On Yee
"They finally deport your ass from the United States?"
―Jackie Ma to Wei Shen
Wei meets Jackie in prison (approximately 18 years after the last time they saw each other) after being arrested after a drug deal bust. They reminisce and talk about the Triad gangs in Hong Kong. Wei tells Jackie that if the Water Street Gang ever needs help, he's the man for the job. Jackie says that he'll put in a good word for him with Winston Chu, the gang's leader.
When Wei gets out of prison, they both go to visit Jiu Mei, a girl Jackie likes. While talking with her, Jackie and Wei are confronted by thugs. When the head thug insults Jiu, it turns into a full-blown fight. The thug throws Jackie over the counter and attacks him mercilessly, leaving Wei to fight the rest. Once the thugs are defeated, they both go to see Winston at The Golden Koi. Winston orders them to collect protection money from the Night Market, which they succeed in doing. They then steal a shipment of Cambria watches and assist with taking over a minibus route.
Later on in the game Jackie sends Wei a text message telling him that his Uncle Tran now trusts him. This allows Wei to complete 24 missions in which he must steal various vehicles from the 4 districts around Hong Kong, awarding the player with close to HK$4 million.
Jackie sends Wei a text message to call Ace and challenge him to a street race, which Wei ends up winning. They then attend Winston's wedding, resulting in Winston's death. They then defend Club Bam Bam from Big Smile Lee's men and Wei helps Jackie deal with Naz at Top Glamour Imports.
Wei and Jackie's actions prove to be impressionable on Uncle Po, which results in both of them officially being initiated into the Sun On Yee. Unfortunately, not long after the initiation, Jackie's latest heist ends up getting him arrested, which Pendrew and Raymond intended to do against Wei's wishes.
After fulfilling all of the necessary duties while in the Sun On Yee and for helping Teng close up all her cases, Pendrew eventually agrees to release Jackie for Wei.
Jackie started feeling uneasy with his time in the Sun On Yee since Winston and Peggy were killed at their wedding. After being released, he tells Wei about the somber thoughts he had been experiencing since he was locked up.
Death
"Oh my God! Jackie! Fuck... Jackie!"
―Wei, upon finding Jackie dead.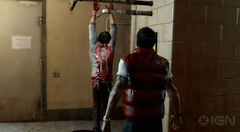 A big part of the story after Uncle Po's death is the power struggle within the Sun On Yee, notably the Red Pole argument over who will become the Chairman. One of the Red Poles, Big Smile Lee, takes things too far when he kidnaps Jackie after Uncle Po's funeral and uses him as bait for Wei, burying him alive on an island miles away from Hong Kong. However, Wei manages to dig up the grave and save him. When he brings him back to Aberdeen, Jackie explains that he wants to leave the Sun On Yee. Wei respects Jackie's decision and tells him to explain his story to the Sun On Yee at the election so that he'll be let off easy; although reluctant, Jackie agrees as a favor to Wei. When Wei offers to go to the Election Hall with Jackie, he declines and says that he is going for a walk.
The next morning, Jackie texts Wei saying that he has found something to show him. Wei drives to the meeting point (an alleyway in Central), but he cannot find Jackie. Wei calls Jackie's cell phone and follows the ring. He walks around the corner and finds Jackie's corpse hung on pipes with his stomach cut open, proving that whoever sent Wei that text lured him there. Wei attempts to cut him down but doesn't succeed. Just as he walks back from Jackie's corpse, a triad knocks out Wei from behind with a pistol. When Wei comes to, he is brutally tortured by Liu Shen Tong, Big Smile Lee's goon, who murdered Jackie. Wei eventually broke free of his restraints, took down all of Tong's men, and killed Tong himself, avenging Jackie's death.
Nightmare in North Point
Jackie can be briefly seen in Nightmare in North Point, sitting with Winston in the back room of the Golden Koi. Neither of the men have anything to say to Wei, though Jackie waves at him. They both disappear in a green flash of light if approached.
Personality
Conroy described Jackie as a coward, saying before Wei came along, he expected Jackie to be hiding up somewhere whenever something like Civil Discord happened. However, Jackie's courage grew from Wei's influence as Conroy stated he is not so sure about that anymore, causing both of them to speculate Jackie was kidnapped. Jackie was always known for being loyal to anyone he respected, especially Wei. Jackie also expressed signs of guilt over his bad deeds, as demonstrated after he killed Yung Lee On. Plenty of people have often stated that Jackie had come across as some kind of an idiot, a sentiment that's shown several times, including the time when Jackie planned to steal a shipment Dogeyes' men were getting, which turned out to be nothing more than a bunch of cheap, fake watches.
Mission Appearances
Sleeping Dogs
Murders Committed
Yung Lee On - Shot in the back of the head while Yung is fighting Wei, as part of Jackie and Wei's initiation into the Sun On Yee.
Trivia
Jackie Ma's original name may have been Johnny Lee, as Jackie replaced Johnny in a certain scene.
Jackie does not know how to ride a motorcycle. When he receives one (a Drag 979 sportbike), he gives it to Wei, saying that he doesn't know how to ride it (he said that he pushed the Drag 979 all the way home from Top Glamour). But, he is able to drive, proven by the fact that he drove 2 cars: Movit Van and Sparc.
Jackie's Movit Van is different from other civilian version. It has aftermarket rims and a slightly rusty bodywork, especially around the wiper washers.
His surname "Ma" means Horse.
Gallery