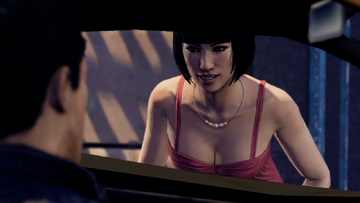 Girlfriends are a small feature in Sleeping Dogs. There are five potential girlfriends for Wei Shen to date. Going out with girlfriends will grant bonuses to the player, including map locations for collectibles and extra races.
Dating
In Sleeping Dogs, dating comes in the form of missions, some girlfriends appear after the date, but after the missions are complete, all of their bonuses are unlocked and they cannot be dated again. Wei explains this to Peggy Li in Bride to Be, saying that having a girlfriend wouldn't be a good idea with his current lifestyle.
Girlfriends
Cheating/Breaking Up
Should the player date Not Ping, whose phone number is only available after dating Tiffany Kim, two optional side missions will be unlocked. The first side mission is started in front of your safehouse in North Point by doing a favor for Calvin.
Upon completion of the side story Tiffany will break up with Wei. Not Ping will call Wei soon after and "break up" with Wei as well.
It is not possible to break up with Amanda, Sandra or Ilyana.
Trivia
After finishing your date and the screen pans out as Wei is "getting lucky," there is sexual innuendo on billboards or signs that depict what the two are doing.
Wei only goes out on one date with each of the girlfriends.
Sandra is the only girlfriend with one outfit.
Not Ping makes an appearance in the Nightmare in North Point DLC.
After breaking up with Tiffany she is no longer an essential character and can be killed.

Tiffany is the only girlfriend who can be killed.
Gallery