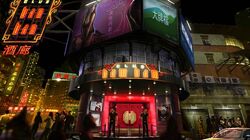 Club Bam Bam
is a club located in
Hong Kong
. Early in the game it suffers considerable property damage when
Wei Shen
chases down the owner to discuss business with the
Sun On Yee
. After the
Water Street Gang
seizes control, it is refurbished and serves as one of the gang's monetary income, only to be shot up later during a gun fight between the gang and
Big Smile Lee
's men.
Description
Located in North Point, Club Bam Bam is managed by Benny. When Benny took sides with Dogeyes, Winston Chu, a Sun On Yee Red Pole and the leader of the Water Street Boys, ordered Wei to make an example of him. Shen fought through Benny's protection and forced him to associate with Winston. After this fight, Benny continued as the manager of Club Bam Bam, he can be found in the club at any time.
The club later serves as the headquarters of the Water Street Gang, as both Winston and Wei run operations from it during conflicts, including when it was shot up by forces under the command of Big Smile Lee.
The club is two stories high, with a VIP area on the top floor adjacent to a lavish manager's office. Club Bam Bam also boasts a private karaoke area, under the control of the club's karaoke hostess, Tiffany. Also, similar to Wei's Safehouses, Wei can also lose his heat level if he enters here or alternatively at K-Bar.
Mission Appearances
Sleeping Dogs
Gallery